| | | |
| --- | --- | --- |
| | Illuminating your path to healing. | |
What is Reiki?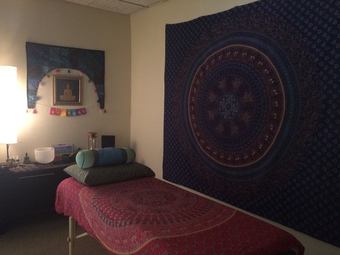 Energy flows through all living matter. When we are stressed and anxious we carry around negative energy which can cause blocks in our meridians and chakras. These blocks are thought to be the cause of pain and dis-ease. Doctors treat the physical symptoms but often fail to treat or even acknowledge the source of the problem.

​Reiki is an ancient healing technique that works with the energy in and around the body to promote healing, reduce anxiety and balance the chakras. As a Reiki practitioner, Kelly has been trained to scan and feel blocked areas and to get the energy properly flowing again. Because of the mind body connection, a patient must commit to not only having Reiki treatments but also to making the positive changes necessary in their lives to start feeling better.

Reiki is not a religious practice. Reiki is a simple, natural and safe method of spiritual healing and self-improvement that everyone can use. It has been effective in helping virtually every known mental and physical illness. It also works in conjunction with all other medical or therapeutic techniques to relieve side effects and promote recovery. Reiki is safe for anyone! Babies and children enjoy the peaceful calming effects of Reiki.
What happens during a Reiki session?
You will lay comfortably on your back, fully clothed on a table. Kelly will lay crystals on and around various areas of your body. Each session starts with sound healing using crystal and Tibetan singing bowls. She will then begin the Reiki session. Reiki involves
no touch or light touch on the body. Some people feel a warm sensation or a peaceful state of calmness, most fall into a deep sleep. Treatment ends with sound healing and discussion of any messages Kelly has received during your session.

​
---